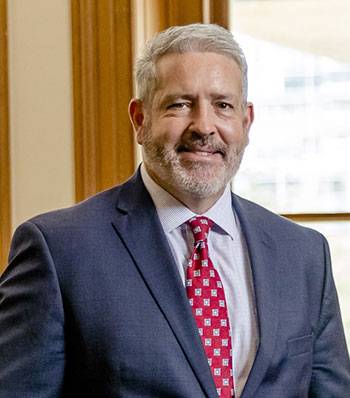 As the Texas State University System's chief academic and health affairs officer, Dr. John Hayek oversees academic program planning and review, curriculum development, and academic standards and policies for the System and its seven component institutions.
Dr. Hayek has higher education leadership experience at the university, system, and state level. Prior to joining TSUS, he served as the associate vice chancellor and chief of staff for academic affairs at the University of Texas System, managing initiatives related to academic and strategic planning, policy development, student success, information technology, and data analytics.
A social scientist by training, Hayek previously held leadership positions with the Kentucky Council on Postsecondary Education and the Indiana University Center for Postsecondary Research, where he conducted research on student success and helped launch the National Survey of Student Engagement. Early in his career, Hayek also worked outside the academia for IBM and the Northern Trust Company, as well as with several public-private partnerships that organized the Super Bowl and an Olympic Soccer competition in South Florida.
Hayek holds a Ph.D. in Higher Education from Indiana University, as well as a master's degree in Sports Administration from St. Thomas University, and a bachelor's degree in Economics from the University of Chicago. At the University of Chicago, Dr. Hayek lettered in varsity baseball and varsity football and was a member of the Phi Gamma Delta fraternity.
Dr. Hayek and his wife Laura, a registered nurse, live in Austin with their four children.