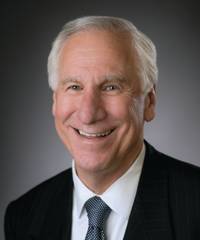 Charlie Amato, reappointed to the Board of Regents in 2019, earned his Bachelor of Business Administration degree from Sam Houston State University. He has maintained close ties with the university over the years and is a past Chair of their College of Business Advisory Council, as well as being an appointee to the Board of Regents.
Charlie is the Chairman and co-founder of SWBC, a diversified financial services company providing insurance (including business insurance, mortgage banking, wealth management, employee benefits, real estate development, professional employer services, and more) to financial institutions, businesses, and individuals. With more than 40 years of experience in all aspects of insurance operations, underwriting, and product development, he is known in the business community for his innovative, relationship-building approach.
Aside from other business ventures, including being an investor of the five-time NBA champion San Antonio Spurs and owning automobile dealerships, Amato recognizes the importance of giving back to the community in which he has prospered. Some of his roles include serving as Chairman of the Texas State University System Foundation, Chairman of the Texas Business Leadership Council, Vice Chairman of CHRISTUS Santa Rosa Health Care Corp., Board Member of Lone Star Capital Bank, National Director for Sigma Phi Epsilon Fraternity, Board Member for Remember the Alamo Foundation, Board Member for Spurs Give, and past Board Member for the Federal Reserve Bank of Dallas – San Antonio branch.
Throughout his career, Charlie has received recognition and several awards, including the Richard W. Weekley Public Policy Leadership Award from the Texas Business Leadership Council; inductions into the Texas Business Hall of Fame, the San Antonio Business Hall of Fame, and the Sam Houston State University's College of Business Hall of Honor. He was also given a Citation Award from Sigma Phi Epsilon Fraternity, the Beta Gamma Sigma Medallion for Entrepreneurship, the Pathfinder award from the San Antonio Chamber of Commerce, and the Legacy Leaders Award from the San Antonio Business Journal. He was also awarded an Honorary Professor of Surgery in the Division of Cardiothoracic Surgery from the University of Texas Health Science Center at San Antonio and a Doctor of Humane Letters degree from the University of the Incarnate Word.
Amato has two grown children and one grandchild. His term on the Board of Regents expires in 2025.